Governance & Leadership
Being one of four Catholic Elementary Schools in the Archdiocese, and being the only Regional School within the Archdiocese, on July 1, 2012, Holy Family Regional Catholic School embarked on a very bold initiative, namely, the establishment of a Board of Limited Jurisdiction.
Prior to the establishment of the Board of Limited Jurisdiction, beginning in the 2011-2012 school year and continuing through to the conclusion of the 2013-2014 school year, our School Administrators were mentored by the Healey Education Foundation. With funding provided by both the Healy Educational Foundation and the Connelly Foundation for three years, professional consultants mentored our Administrators with regard to best practices in furthering our mission as a Catholic School. Specifically, the professional consultants guide the School's Administration with regard to strategies in the areas of development, marketing and enrollment as we further strengthened the foundation of our Regional School
Proud to be on the "cutting edge" for the future of Catholic education in our local area, with the permission and endorsement of the Archdiocese, and with the concurrence of the pastors of our sponsoring parishes, the Board of Limited Jurisdiction was established for Holy Family Regional Catholic School.
Specifically, the Board is responsible for finance, which includes budgeting, financial reporting, facilities, setting tuition, and strategic planning. The Board is also responsible for enrollment and marketing, as well as development, including fundraising planning. The Board members meet no less than four times a year, and there are several Committees which also meeting on a regular basis. Under the leadership of Board Chairperson, Mr. William Taylor, the Board currently consists of 18 members, including Father Michael Hennelly and Monsignor Michael McCormac. The Board of Limited Jurisdiction is comprised of the following members:
Members of the Holy Family Regional Catholic School Board of Limited Jurisdiction include:
Joseph Adler
Joseph Adler is the Secretary of the Holy Family Board of Limited Jurisdiction and also a member of its Executive Committee and serves as Chairman of the Finance Committee. Joe was a member of the Steering Committee that led to the formation of HFRCS. He is also a member of the Pastoral Council at Queen of the Universe and Chairman of the its Finance Committee. Professionally, Joe is the retired Vice President and Controller of Pinnacle Foods, Inc., a leading manufacturer and marketer of branded food products, including Birds Eye vegetables, Duncan Hines baking mixes, Vlasic pickles and others. He is a CPA and earned his Bachelor's and MBA degrees from Rider University. Joe and his wife Wendy are life-long members of Queen of the Universe parish and graduates of Queen's elementary school, as are their five children.
Anthony Amato
Anthony Amato is a General Manager for Wawa, Inc. He has devoted eighteen years to the company and has won the prestigious President's Club Award on four separate occasions. Anthony is Wawa's Voice of the Associate Representative for the Bucks County and Philadelphia regions. Prior to his Wawa career, he owned and operated three successful restaurants in the Lower Bucks County area. Anthony is a 1982 graduate of Pennsbury High School. He attended Johnson & Wales University in Providence, Rhode Island and graduated in 1986 with an Associates degree in Culinary Arts and a Bachelors degree in Food Service Management. Born and raised in Fairless Hills, he is a life long member of Saint Frances Cabrini Parish. He is an Extraordinary Minister of the Holy Eucharist and a former member of Saint Frances Cabrini's Pastoral Council. Anthony is married to Cynthia and has two children, David and Alexandria. In the fall of 2017, Alex will be entering 8th grade at HFRCS and has attended since the merger.
Jenna Clancy
Jenna (Rankin) Clancy presently serves as Associate Director for Development at Princeton University. Prior to Princeton, Jenna served similar capacities at both Stanford and Temple University. Jenna earned her Bachelor's degree in English and Master's Degree in Education from Temple. She is a graduate of Villa Joseph Marie High School (2005) and Saint Frances Cabrini (2001). Jenna and her family, including three siblings, have been members of Saint Frances Cabrini parish for over 25 years and are all graduates of the school. Her brother, Connor Rankin, was a member of the first graduating class at Holy Family Regional Catholic School. While Jenna lived in California, she was involved as a volunteer with the Catholic Community at Stanford University. Jenna and her husband Colin live in Washington Crossing, PA.
Jennifer DiGuiseppi
Picture and Bio info coming soon!
Susan DiLisio
Susan, her husband Sal and their three children became members of the Queen of the Universe Parish in 1998. Susan and Sal are both alumni of the Queen of the Universe School and have always been strong supporters of Catholic education. Susan was a PREP teacher for many years at Queen and has been involved in various parish activities. She has recently become a member of the Pastoral Council, and as a representative of the Danaher Lynch Family Foundation, Susan is looking forward to working with the members of the Board of Limited Jurisdiction in their mission to provide a strong and viable base for Catholic education both now and in the future at Holy Family Regional Catholic School.
Matthew Dunn
Picture and Bio info coming soon!
Kara Haggerty
Kara is a native Lancastrian, having moved to Bucks County in 1991. She graduated from Immaculata University with a degree in Music and has certifications in Music Education and Music Therapy. She later received her certification in Special Education and her Masters in Educational Leadership, also through Immaculata. Kara has taught in the archdiocesan schools of special education at Queen of the Universe Day Center and Our Lady of Confidence Day School. She came to Holy Family Regional Catholic School at its inception in 2010 as the assistant principal, and now has assumed the role of principal as the school enters its eighth year. Kara is married and has two daughters, Erin and Kerrie, both graduates of HFRCS and also Conwell-Egan Catholic. They are both now in college. In her spare time, Kara enjoys baking, cross stitching and reading. She is a parishioner at St. Frances Cabrini parish.
Theresa Levitsky
Theresa Levitsky is currently employed at St. Francis Medical Center in Trenton, NJ, where she has been the Program Director of the School of Radiography for more than 24 years. After completing a certification program in Radiography, Theresa graduated from the College of New Jersey with a Bachelor's in Business Administration Management. Her graduate studies were completed at LaSalle University where she earned a Master of Arts in Education. Theresa is a member of several professional organizations and serves as the Vice President of the Auxiliary at St. Francis. She has been a lifelong resident of Levittown, having attended St. Michael the Archangel grade school and Bishop Conwell HS. She is a member of St. Frances Cabrini parish and lives in Thornridge with her husband, Robert, and their two daughters, Madison and Rebecca.
Monsignor Michael McCormac
Monsignor Michael McCormac is pastor of St. Frances Cabrini Parish, Fairless Hills, a graduate of St. Joseph's University with a Bachelor of Science degree in Accounting, Certified Public Accountant, graduate of St. Charles Borromeo Seminary with a Master of Divinity degree, ordained to the priesthood in 1980 and former Director of the Office for Financial Affairs of the Archdiocese of Philadelphia.
Robert Moore
Robert Moore is first and foremost the proud parent of two girls currently attending Holy Family Regional Catholic School. Rob is an alumnus of St. Joseph the Worker School and hold a Bachelor's of Business Administration from Rider University and a Master's of Science in Computer Information Science from LaSalle University. For over 16 years, Rob has worked for Ingredion Incorporate (formerly National Starch) in Information Technology, with a current title of Sr. Network Engineer. Rob and his wife Jen, along with their two daughters reside in Yardley and are members of St. Frances Cabrini Parish. Rob currently chairs the Board's Information Technology committee at Holy Family Regional Catholic School.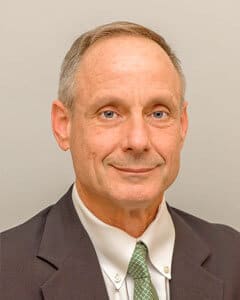 Tom J. Profy, IV
Thomas J. Profy, IV has been an Attorney with Begley, Carlin & Mandio, LLP in Langhorne, PA since 1987. Additionally, he serves as a solicitor for the Bucks County Treasurer's Office since 2005 and has been a member of the MileStone Bank Board of Directors since 2007. Tom completed his undergraduate degree in American Studies at the University of Notre Dame. He then attended the Dickinson School of Law where he completed his Juris Doctor Degree in 1986. Additionally, Tom holds a Masters of Taxation degree from Temple School of Law.Tom is an alumnus of Queen of the Universe grade school. He currently resides in Newtown with his wife Lee and his children Patrick, Luke and Grace. Tom is a member of Saint Andrew's parish.
Thomas Roder
Tom Roder is a retired IT professional, having served more than 40 years in corporate application development. Tom has a Bachelor of Science degree in Business Administration from St. Joseph's University. Prior to being appointed to the HFRCS Board in 2019, Tom volunteered his time in technology support at Holy Family Regional Catholic School for nine years. Tom is the proud parent of two St. Francis Cabrini School graduates and the proud grandparent of Jocelyn Mulcahy, a HFRCS student. Tom and his family are members of St. Francis Cabrini parish and currently reside in Morrisville, PA.
John Scanlon
Picture and Bio info coming soon!
William Taylor
William (Bill) Taylor presently serves as the Vice-Chair of the Holy Family Regional Catholic School Board and is also a member of its Executive Committee. Bill was an inaugural member of the Board, and served as its Chair from inception until the 2017/2018 school year. Bill earned his Bachelor's degree in Marketing from The College of New Jersey. He also has an MBA in Finance from Philadelphia University. Bill and his wife, Diane, have been members of St. Frances Cabrini parish for over 30 years. He is a lifelong resident of Lower Bucks County, a graduate of Bishop Egan High School and an alumnus of Immaculate Conception Catholic School. Their two children are also graduates of Conwell Egan Catholic High School and St. Frances Cabrini Catholic School. Bill presently works as the President of The Pennsylvania and Delaware Compensation Rating Bureaus (PCRB/DCRB).
Reverend John Wackerman
Father John Wackerman grew up in Wyncote, Pa and is the oldest of seven children, having two brothers and four sisters. Father Wackerman went to Immaculate Conception grade school and is a 1975 graduate of Bishop McDevitt High School. Father graduated in 1983 from Scranton University with a Marketing degree and worked mostly in sales for 9 years. Father entered St. Charles Seminary in 1993 and states that "the call to the priesthood was very strong about a year or two before entering the Seminary." Father John Wackerman was ordained on May 16, 1998 at the age of 36 and has been a priest for 19 years. In Father's words "It's been a wonderful experience." Father currently serves as the Pastor of Queen of the Universe Parish.
Primarily through the Principal, Advancement Director, and the Business manager, the School's Administration works very closely in partnership with the Board of Limited Jurisdiction with the expressed intention to provide the long term viability and sustainability of our School.
While the Board of Limited Jurisdiction provides invaluable service to the School, specifically in the area of strategic planning for finances, enrollment and development, and provides opportunities for consultation in these areas of expertise, the Principal is the chief administrator of the School, implements policies and planning goals, and oversees personnel as well as curriculum.
Candidates for the Board of Limited Jurisdiction can be made to the Board's membership Committee Chairperson, Mrs. Theresa Levitsky. More information can be found in the Family Handbook regarding the overall purpose and function of the Board of Limited Jurisdiction.
Board Member Qualifications
Board members are nominated, approved by the Pastors Governing Board, interviewed by the Board's Interview Team and ultimately approved by the full Board. Board members commit to a term of three (3) years. Interested person(s) should contact the Pastor of his or her parish for possible consideration.
Criteria for Membership/Code of Ethics
Members should be 21 years of age or older.

Members should have a genuine interest in Catholic school education, the Mission of the School and the Archdiocesan and Parishes' Vision.

Members should have an ability to work with others.

Members should maintain high levels of integrity and confidentiality.

Members should be objective and free of self-interest.

Members should actively and generously support the programs and operations of the school with all available personal resources.

Members should support Board decisions even if they do not fully agree with them.

Members should not be salaried employees of the parishes or school.

Members should have the ability to understand and accept the parameters of the Board as directed by the Board's Operating Principles.

Members should give witness to Catholic teachings and moral values.

Members should maintain regular attendance at Board meetings. Any Board member absent from two (2) regular meetings of the Board during one (1) year (July 1 to June 30) shall, unless excused by action of the Board, ceases to be a member.

Members should abide by the Operating Principles and Policies of the Board and the Archdiocese of Philadelphia.

Members should deliberate on all matters before the Board in good faith and for the common good of the School, the Parishes, the Archdiocese of Philadelphia, and the Roman Catholic Church.
(Source: "Operating Principles of the Holy Family Regional Catholic School Board." Catholic School Development Program, September 2010: Board of Limited Jurisdiction Operating Principles)
Welcome Message from Principal Kara Haggerty
View Message
Middle States Team Evaluation Report
View Report
Visit Us
The best way to get to know Holy Family is to plan a visit.
Schedule a Tour